Talk about a slow news day.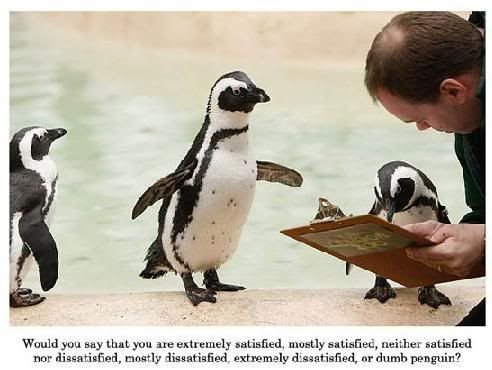 Convention stuff, politics stuff, blah blah blah. A former teen star got arrested in an airport for, I don't know, something or other. For Better Or Worse (I'll take the "or worse" category there) is ending, Matthew McConaughey's dad died during sex, and viropiracy is the new big scary. A blogger got arrested by the FBI for leaking new GNR tracks and Max Tundra is finally putting out a new album. Science apparently has no place in politics and the the key to fundraising? Guilt trips. Hey, if it can work for the Catholics, it can work for just about anybody, I guess.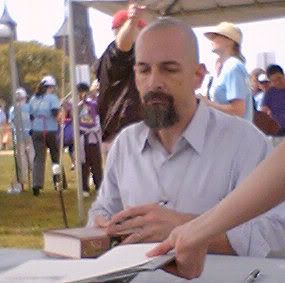 So instead I want to talk about an article I read today about Neal Stephenson (above, who clearly looks like a skinny version of Rob Halford) and his newest book, Anathem, which comes out on September 9th, in the latest issue of Wired.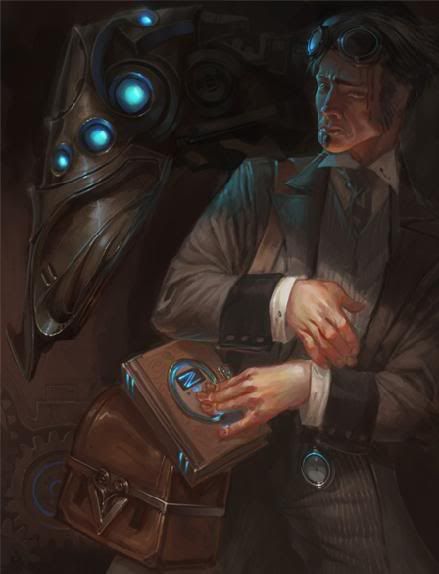 And as I write this, I'm also openly petitioning Benjamin Light to write a review of some Stephenson books for the site (and hopefully focusing on Stephenson's magnum opus, The Baroque Cycle, a masterwork of steampunkery). He's read more of them than I have so while I think we have the same appreciation for the man, his is deeper, by far. Also, I'm 3/4 through the so The Diamond Age, but it's absolutely excellent so far. Stephenson is a smart writer with clear, playful prose and who is not shy about feeding you the big words in with the words you know along side the ones he's made up.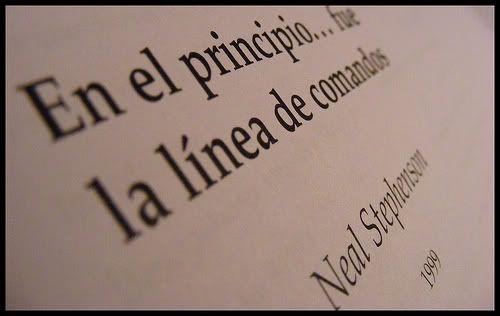 The article, by Steven Levy, starts off telling us about a men's history club in the Seattle area. The members gather once a month at their leader's house to discuss a specific group from anicent history, past subjects having included the early Romans and Frederick the Great, but tonight it's Vikings. One of the members is bringing some mead  and night's dinner is meat cooked over a fire. The email invite to the members of the history club said this: "Damp will be the weather, yet hot the pyre in my backyard." It was signed by Njall Mildew-Beard, Neal Stephenson's alias for the evening.
Stephenson, who's been called the "poet laureate of the hacker culture" by Salon, is a hard writer to categorize. Cyber punk? There's shades of it, especially in his early writings, certainly. Trendsetting pioneer in the hacker mindset? Yeah, I'd say that everyone one of his books goes there in some way, and he's definitely interested in the makings and breakings of code. But he's also, as Levy's article says, both a best selling novelist and a master of cult science fiction, even when it's channeling itself through period settings.
Either way, I'll put it simply: Snow Crash is an essential read for any and all. And with the way the internet and religion slips into our lives, it'll always be topical. Haven't read it yet? Get on it. Give me another two hours with The Diamond Age (which, at some point, will be a miniseries produced by George Clooney), a futuristic tale set in neo-Victorian Shanghai following the adventures of a young woman a nanotech book that makes the Kindle (fuck you, Kindle. Books will never die!) look like the silly piece of shit that it is, and I'm pretty sure I'll be able to call it an essential as well.
Once the article finishes it's lead in with the history club, the action moves downstairs to Stephenson's workshop where we learn about his newest hobbies: Western martial arts (read: Medieval Times!) involving swords (he owns 12) and daggers, and metalworking. In fact, Stephenson joins shows the article his latest creation: A freaky looking helmet that he wears presumably to protect his head when he's kneck deep in crazy swordplay.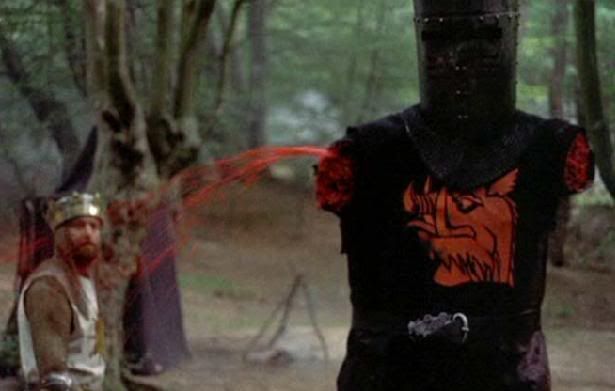 After that bizarre little introduction, we dive into sexy business time: Anathem, Stephenson's 9th book, which, at 960 pages, is his longest yet? (Oh, did I not mention that you could not only kill a fly with the average Stephenson tome, but probably a rat or a small cat as well? Cause you could.) The hotly anticipated book is set on a different planet, one with 7,000 years of it's own history at Stephenson's disposal, and deals with the split between two different aspects of it's civilization: the indulgent majority of the population, addicted to shopping in megastores and gambling, trashing the environment, and getting lost in a web of fast food and evangelical religion (Sound familiar? the article asks), and the minority, a highly educated monastic sect of big thinkers who pride themselves on being away from the mundane general population and have devoted their lives to the study of time.
A good deal of the book was inspired by Stephenson's involvement with the Long Now Foundation and their main project, the Millennium Clock. Long Now is a private group, founded in 1996, who devoted themselves to preserving our long term cultural institution and, as Wikipedia says, seeing itself as the counterpoint to today's "faster/cheaper" mindset and to promote "slower/better" thinking. The Millennium Clock, also called the Clock of the Long Now is designed to be a mechanical clock that keeps time for 10,000. I guess you could say that means that Long Now has a big picture way of looking at things, so much so that they propose recordign digits with five digits, such as 02008, rather than four, or 2008. The article details how Stephenson learned of the clock and how he got involved with Long Now very well, but I'll add that Stephenson also briefly worked as an advisor to Blue Origin, a rocket science firm, and currently works part time with Nathan Myhrvold's Intellectual Ventures as an inventor. Also, to wind down from a long day of inventing and writing amazing thought provoking hypernovels, he dabbles in cryptography and writing code, you know, for fun.
The story of the monk type figures in the novel, defined by their almost religious devotion to studying and worshiping and protecting their super clock from the unthinking beasts of the world at large, almost servers as a meta comment on Stephenson's fans and the author himself. "It's really about the difference between people who can sit down and focus their attention for a long period of time on something complicated in a patient and steady way versus people who never read anything longer than a sentence or a paragraph and who get very impatient if you try to go on at any length," Stephenson says.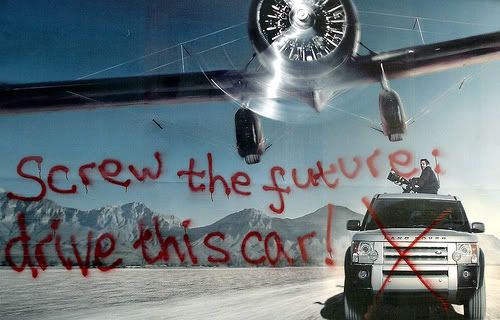 Stephenson concedes one foot on both sides of the materialistic vs. intellectual debate, Levy's article tells us, but he finds himself more interested in his own special theme, our society's secret war between the Long Now and the now. "When I'm working on a book, I need to be uninterrupted, a long-attention-span kind of thing. On the other hand, there are a lot of things in my life that are important and keep me communicating over email. It's harder for me even to read books than it used to be, and there's obvious irony there."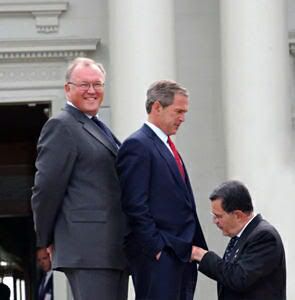 The article, while pretty unsatisfying as a Stephenson profile is extremely titillating (speaking as a hungry fan) about the new novel, which is obsessed with the study and measurement of time, while also being quite timely in it's parallels to the here and now in George W. Bush's America. Science and religion have become blood enemies, The Hills has become a viable television show, and using your brain for rational thought for longer than a few minutes at a time has practically become seen as disgusting. "I could never get that idea, the notion that society in general is becoming aliterate, out of my head," Stephenson says. "People who write books, people who work in universities, people who work on big projects for long periods of time, are on a diverging course from the rest of society. Slowly, the two cultures just get further and further apart."
So true is practically hurts.
I want to go into much more on Long Now and the Millennium Clock (especially the fact that Brian Eno produced a CD of chimes inspired by the Clock of the Long Now) and really, just a Stephenson profile of it's own, but time and space are a factor there. Instead, I just want to leave you with some links here and there, and not forgetting to mention that the book comes with a CD of 7 tracks of music inspired by book and the world within it. Time is apparently a theme of the music on the disc and each track is apparently a cappella weird shit. Take that, Bjork.
Alright, that said, go give Neal Stephenson a look. It'll be worth it, I promise.
And in the world of politics and the convention and all that blah blah blah, Hillary said "Unite!" but also said, "Hey, you know, if this whole Obama thing doesn't work out, there's always me in 2012." Bill Clinton also said "Unite!" but reminded us that he was awesome. John Kerry was zzzzzzzzz with one or two decent cracks at McCain, but still zzzzzz. Biden was all like, "You like me, you really like me," and McCain supposedly has picked his choice for VP, but won't tell us until Friday, which is his birthday. Wish him a happy one, if you get the chance. He'll be like 100.
Seven famous penises in history.
Pollutants cause birds to sing tainted love songs.
A one-legged hooker was killed in Brooklyn after a john hit her over the head, causing her to fall backwards out of her wheelchair and slam her skull against the wall, cops said yesterday.
In the beginning… was the Command Line.
Jipi and the Paranoid Chip, a short story by Neal Stephenson.
Aaron Sorkin to write a movie about the founders of Facebook?
David Duchovny has a sex addiction problem? When is that really a problem? I mean, really?
Chuck Norris has a video game for your cell phone: Bring On The Pain. I just hope you have 911 on speed dial before Chuck kills your phone.
(I'd love to make a Chuck fact joke above, but I just can't do it after being reminded of those Norris/Huckabee ads from the primaries.)
Shirley Manson really is in that horrible Terminator TV show.
How does it feel to die?
Oh, and cats that look like Hitler. Or, kitlers!