I don't understand the collapse of Wall Street but it gives me great pleasure to know that big, bad financial institutions manage their money just like I do: terribly. So now, everyone is totally freaking out. As a person almost completely incapable of managing their own money, I thought it would be best to offer my take on the situation. And look at that, the US government manages their problems just like I do: in a completely petty and vindictive manner.  Mess with me and you can bet your ass I won't be signing your bill! Now, apologize.
When I started hearing about this collapse, my first instinct was: What would Gordon Gecko of the classic film "Wall Street" do? Apparently, some other dumb ass had the same idea, but unlike me, they actually had the opportunity to ask Michael Dogulas, the actor that played Gordon when he was at some sort of UN conference about nuclear weapons. The reporter was then kicked out of the news conference and told "You'll never interview in this UN press meeting room again".
Naw, for real, Michael gently reminded him that Gordon was a fictional character of a film written 20 years ago. Also, confidential to Gekko: you were kinda wrong. Greed doesn't really work. That is how we ended up with some shit like Bank of America owning the entire country.
My next thought was…what would Patrick Bateman do? The answer to that is clear: getting fired from his firm would no doubt inspire another psychotic break as detailed in Bret Easton Ellis's self indulgent masterpiece, American Psycho. He would order some hookers,cut them up a bit, lick some Haagen Daaz off their bloody fingers and then go return some videotapes.
Another movie about Important Business That Gets Conducted in New York is Working Girl. In this movie, a slightly deranged secretary's boss gets into an airplane accident and then the secretary beings to essentially assume the identity of her boss, do her job and STEAL HER MAN, YA'LL. All of this is considered okay because the secretary is blonde and nice and has a breathy voice and the boss is a brunette and mean and has a manlier voice. I won't spoil the ending for you, but I bet you can probably already figure it out, right?
Remember when Liz Lemon went corporate?
The movie Boiler Room, in many ways an homage to Wall Street & Gordon Gecko, has a scene with Ben Affleck that perhaps inspired many a young Lehman Brothers or Morgan Stanley employee:
So, the bail out, which everyone was upset about, is now not happening, and everyone's pissed about that, too. That's like when you offer to pay for a friend and they pretend to refuse, as we do in polite society, and then you agree that you should go dutch and then they get pissed at you for not paying for them. Bail out fails, Wall Street fails, and…now what? My response to today is similar to my response to all crisis and is also the response of the two Bank of America employees that sit next to me at the cafe I write this entry from: to get completely shitfaced drunk. We won't have jobs soon anyway, they say. Let's never go back to the office and instead get new jobs as hobos.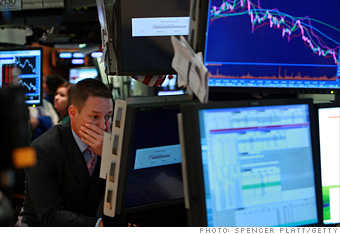 Listening list:
1. Wu-Tang Clan, "C.R.E.AM."
2. Memphis Bleek, "Alright" (Ratatat remix)
3. This American Life, The Giant Pool of Money
4. Favtape's top songs of 1929, another year with another market crash