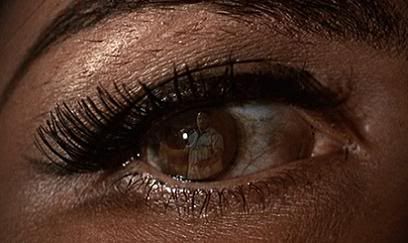 "A film is – or should be – more like music than fiction. It should be a progression of moods and feelings. The theme, what's behind the emotion, the meaning, all that comes later."
-Stanley Kubrick.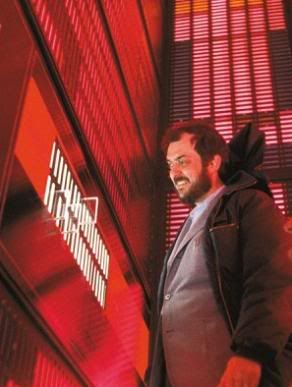 Here we are again with part five of our films that we love, and perhaps even adore, that we feel should make the jump over to the Criterion Collection, if, for no other reason, just to make ourselves a little happier. Or maybe we just want to talk about them because we like them.  Or because we're sick, sick people…
August Bravo: One of the newest films to hit the Criterion Collection (this may actually be a joke):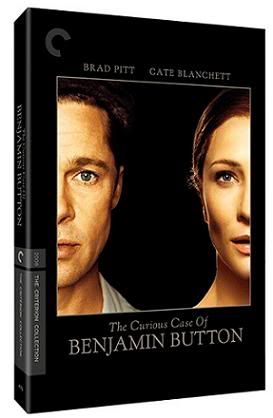 Marco Sparks: Ah, interesting. You saw that, right?
August: Yes, I not only saw, but I also immensely enjoyed Benjamin Button. My opinion may be a little biased since I'm a  huge Brad Pitt fan. I often feel his performances are highly underrated, as well as most of his movies. Shut up, Benjamin.
Marco: Is it as remarkably Forrest Gump-like as it appears?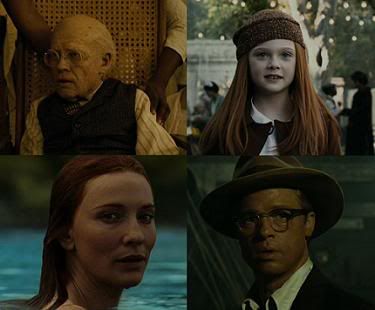 August: Well, I hear that a lot, people comparing it to Forrest Gump. Yes, I realize they have the same screenwriter and that they were both nominated for 13 Academy Awards, but the only way they are alike is the way they recap a man's life, Benjamin Button being far more accurate though.
While they both are farces, maybe is far more of one, the emotions are so real and gives to much to what many people consider a long and boring film. It's length really is staggering, but I would have loved to see more as David Fincher's pinpoint accuracy  at directing really made this movie so much better. It's continuous subtly is something that struck me the most, probably. It doesn't have to have a lot of noise or dialogue to mean something profound, just picture. Just visual. This made me sad as you could only imagine, if you don't already know, what happened. All good things must come to an end.
Marco: That really is so poetic that I might cry, August. Really and truly. Besides doing an update on one of our previous posts in which I'm happy to say that My Dinner With Andre will soon be a Criterion release, I'm going to have to say that you should probably do your pick while I do some very manly crying here.
August: Uh huh. Today's pick is Sex, Lies, and Videotape, 1989, directed by Steven Soderbergh.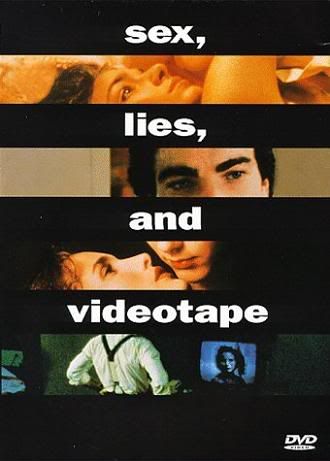 Sex, Lies, and Videotape isn't my favorite movie. It isn't even my favorite Soderbergh film. But it's good. I can't tell you how I came across it. I probably saw the title and thought it would be a different kind of movie. But that's ok. I'm glad it wasn't.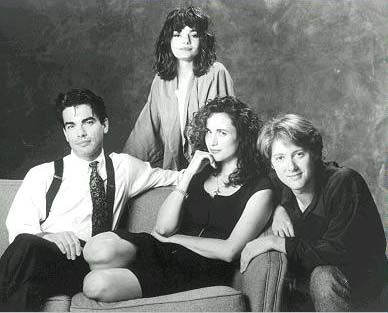 This follows a younger married couple. John, Peter Gallagher, and Ann, Andie MacDowell. John's old college friend, Graham, James Spader, comes back home to visit a friend. He stops at John's and finds Ann there alone. What ensues is probably exactly what you'd expect from someone visiting an old friend's wife. Awkward conversation and a lot of confusion. When John arrives Graham changes his demeanor to a little less open. John mocks him a little and makes you think that's what he did during their college days. Throughout the movie you learn that John is having an affair with Ann's sister. You also learn that Graham videotapes people talking about their sexual experiences. While that is very interesting, it's not what makes this movie worthy of being a criterion. The best thing about this movie is the conversation between the characters. How they interact. Also the fact that there isn't any nudity in the entire movie. Not that that's something special, but in a movie with sex in the title, you would expect oodles of tits and ass.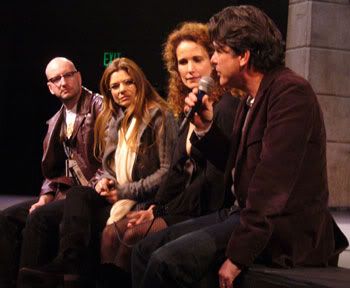 While this movie accomplishes nothing, which, as you know, I'm into, it's an extremely intriguing movie that I think about often at completely inappropriate times. Not for sexual reasons, but because of how real the movie portrays itself to be. Graham's interaction with Ann and sometimes Cynthia, his anger over John's infidelities, Soderbergh directs this movie to perfection. A criterion collection would do this movie very much justice.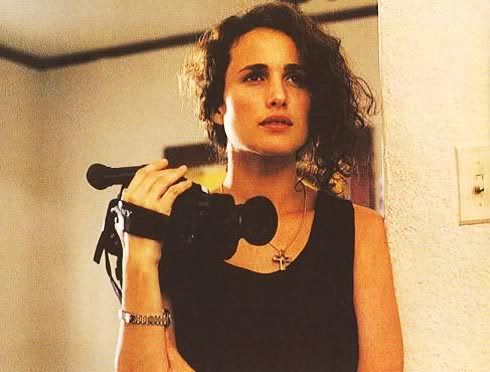 Marco: And don't forget that this is the film (along with Richard Linklater's Slacker) that basically invented "independent film" as a viable genre for both people like the Weinsteins and the soccer moms alike.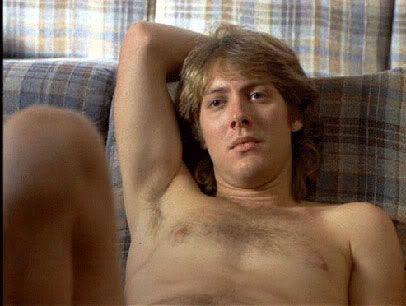 I feel you though on this not being Soderbergh's greatest film, and I'm a huge Soderbergh fan, but I almost feel like this is my least favorite of his films, except for maybe something like Bubble. It fascinates me though that Schizopolis is in the Criterion collection – even though Schizopolis is a fantastic film and definitely deserves the recognition – and not this. Though the commentary on the Sex, Lies, and Videotape DVD with Neil LaBute is very interesting and informative about the art of direction, even though I tend to find LaBute to be slightly reprehensible (not just for his cinema of the destruction of women, but for his cinema of the destruction of cinema).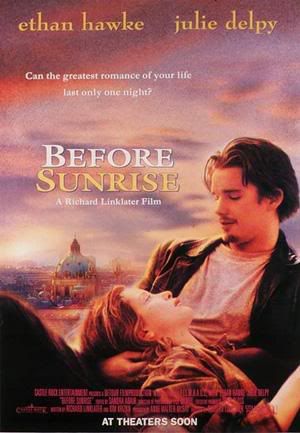 And since I mentioned him above, might as well go with my picks for today, which are Before Sunrise, 1995, and Before Sunset, 2004, both directed by Richard Linklater and starring Ethan Hawke and the always incandescent Julie Delpy.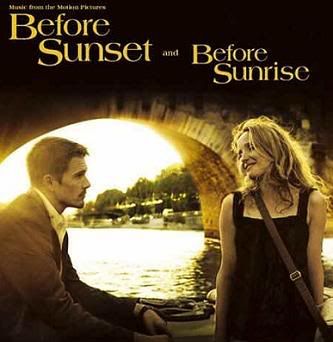 The thing about a filmmaker like Soderbergh to me is that he just lives and breathes film. He's a lifer in the game of cinema and while he's not always producing winning material, he's always experimenting, always reaching. He may as well have a deal with Criterion to always produce his DVDs because he, in obviously a much different way, is doing something very similar to someone like Wes Anderson to me. Constantly taking the language of the film from the past and using it to do something new. Linklater, to me, is doing pretty much the same thing, but just at a much less interesting level usually.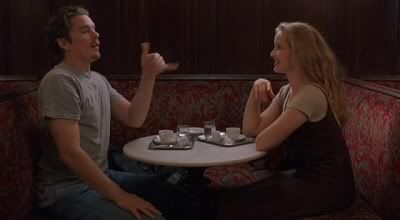 The first of these two films, Before Sunrise, written by Linklater and Kim Krizan, and based on a real encounter that Linklater had with a woman, has the simplest of a premises: A man and a woman meet as complete strangers on a train, and find that they have some time to kill in Vienna. The man, played by Hawke, is American, and the woman, played by Delpy, is French, and they have trains and flights to catch the next morning. and spend the night together, walking around the city, exploring it, talking, and exploring a brief romance with each other. When the sunrise comes and it's time for them to leave each other, they make a promise to meet again in the same place in six months time.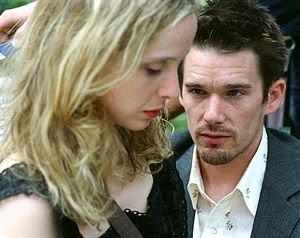 The sequel, Before Sunset, set nine years later (the script by Linklater, Krizan, and the two leads was nominated for an Oscar), deals with the two of them reconnecting, dealing with the outcome of whether or not they met again six months after the first film, and getting to know each other again. Admittedly, that is the worst possible way to summarize these two films, but it's difficult to do so in that they're not heavy plot films, they're mood pieces. They have the real ups and downs and uneasy flows of actual conversation between two people who are smart and funny and interesting and have problems. Really, the saddest part about picking these two films to talk about today is that I'm revealing myself to be, like all sleazy guys, somewhat of a closet romantic. Pathetic, I know.
The films, with essentially consist of two people talking about the big issues in life while slowly falling love with each other, have a little bit of that Eric Rohmer vibe, and there's always talk of a third in the series (though technically there was as the cameo made a rotoscoped cameo in Linklater's Waking Life), which would make sense since Linklater seems to have a hard on for Truffaut's Antoine Doinel series (and is doing some kind similar project with Hawke and Patricia Arquette, filming a few scenes every year for a larger project tracking the growing life of a child). Like I said, I think Linklater wants to just keep experimenting and turning out real films, but I think you could make the argument that there's more craft at work with Soderbergh, and that Soderbergh tends to have a higher win ratio over Linklater.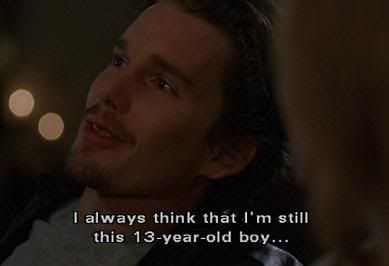 The last thing I'll say about these films is that it's just amazing how well they work. You want to hate them, but you'll be charmed instantly, especially considering what a douche Hawke tends to be elsewhere (and in real life). Many prefer Sunrise for it's idea of a first meeting, a first falling in love in a kind of pedastal way, very idealized and romantic, which is great, don't get me wrong, but I'm a Sunset man. I'm fascinated watching the two come back together after their 20s, after they'd have their hearts broken a few times, and you see that shine growing in their eyes being around each other, that brightness that probably hadn't been around for a while. The last 20 minutes of Before Sunset is pure cinematic thaumaturgy.
Well, I think it's safe to say that we've rambled on (and by we, I mean the royal we)  enough there, so we'll catch you another time with more diatribes about our classic films. Go enjoy yourself a nice progression of moods out there.