We're entering spring, trees blooming, birds and internet geeks twittering, all that shit, but another season is slowly rearing it's ugly head upon us again: new television pilot season. Of course most of the stuff that ends up on TV is shit, so it stands to reason that new pilot season might as well be filled wall to wall with shows called Outhouse! (which would probably make a great reality show on FOX), but still, it's TV, and you want it to be good. You want to think that your next new obsessive serialized love affair is there waiting for you.
Anyway, the Hollywood Reporter did a little rundown on Sunday of some of the new pilots coming down the pipe and here's a few highlights:
Flash Forward, from ABC, based on the novel by Robert J. Sawyer, about scientists working on a high energy experiment that unexpectedly causes a global consciousness shift, flashing everyone on the planet forward to experience a few minutes of their own future.
The concept makes me want to read the novel, but I don't know how well the idea would work as an ongoing series. I guess we'll see. It's from Brannon Braga and the pilot was directed by David Goyer and stars Joseph Fiennes, above, who I want to call Jay.
Community, from NBC, starring Chevy Chase and Joel McHale, is probably designed to pique curiosity but I wonder how good it'd actually be. In it, Chase and McHale (who would continue to host The Soup should the pilot get picked up) play community college classmates. Oh, the hilarity.
Melrose Place, in a revamp/sequel type form a la the new 90210. Ha ha, can you believe it!? Outrageous. They're probably horny as hell to get Heather Locklear back for it. And I'm sure that Lisa Rinna will gladly come back, but the question is will Grant Show come for it now that Swingtown is a distant memory? What was the connective tissue between the original Beverly Hills 90210 and Melrose Place, wasn't it that he fucked Brenda and then… just went home to his apartment complex? I feel like he could pretty much play that same role today.
Cougar Town, starring Courtney Cox. Fuck yeah, that sounds like a party, right? But it's going to have to have some juice to distance itself from the reality show about cougars that just came out and your average Heather Locklear movie on Lifetime.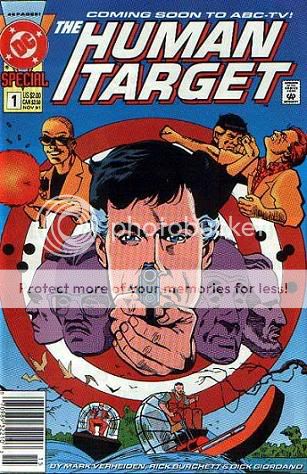 Human Target, starring Jackie Earle Haley, who was most recently Rorschach in in Watchmen, and directed by Simon West, based on the DC comics character created by legends Len Wein and Carmine Infantino, but was really popularized in it's Vertigo series by Peter Milligan. It's about the unique bodyguard, Christopher Chance, who impersonates those he's protecting to root out and eliminate the threats against them.
Everything about this is bizarre, especially considering it was already tried as a TV show (starring Rick Springfield!) and failed in that arena (though that was before the Milligan run at Vertigo). Secondly, Simon West? Eh, hack. Thirdly, Jackie Earle Haley as Chance? That makes no kind of sense.
Day One, not mentioned in the HR article, and starring Julie Gonzalo (pictured above) is about "a group of apartment dwellers who have survived a post-apocalypse event." It's from NBC and will fill Heroes' usual time slot while Heroes supposedly goes on a Lost and 24-style January to May scheduling and if we're all lucky, whether the show is good or bad, maybe it'll replace Heroes permanently.
A spinoff to NCIS, starring Chris O'Donnell and LL Cool J. Wow, that sounds like a license to print money right there. At least, that's what my mother would say since she loves this show, which itself is a spinoff to JAG.
V, a remake of the 1983 Kenneth Johnson miniseries about alien invaders coming to Earth, is also amongst the hot new pilot ideas being discussed, though it hasn't been filmed yet.
Also, Lost's Elizabeth Mitchell has already been cast, leading many to assume that she's the season's big death this year (but I'm thinking it's probably Sayid, I'm sad to say).
Trauma, about the fast paced world of medical trauma emergency stuff out in the field. I'm a little sick to death of medical shows and the fact that it's supposedly got some kind of slam bang action opening directed by Peter Berg leaves me totally flaccid.
Caprica, which was also not on the HR list, but I mention it because the pilot to the Battlestar Galactica prequel (which seemingly only kinda ties into BSG) came out on DVD recently and is going to air on Sci Fi channel, or SyFy, at some point soon. My real question to you is: Do you really give a shit about this show?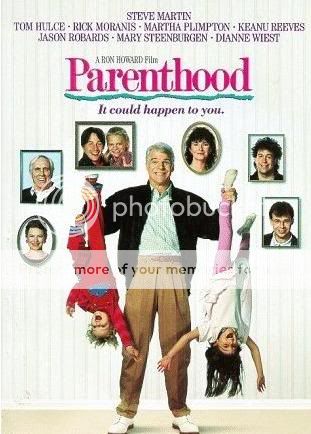 Parenthood, based on the 1989 Ron Howard film, and starring Peter Krause (who is the quintessential smug asshole that you actually like)(but seems to be in need of a new job at the start of every pilot season) Maura Tierney, Monica Potter, Erika Christenen and Craig T. Nelson. The script by Jason Katims is apparently well like and the show is already going so far as to begin it's preliminary staffing.
Also interesting though is that like Rob Thomas' just returned Cupid and Human Target, this was already tried as a series back in 1990 (and Joss Whedon was one of the staff writers) and was canceled. So, are networks just dying to give ideas a second chance all of a sudden or are we completely out of ideas?
I encourage you to take a gander at the rest of the list, but other than what I mentioned, it's a lot of obvious crap or vague mentions. And since I mentioned Lost a few times, a slight spoiler for the next episode:
(Thanks, Georgia!) And here's other juicy sci fi spoiler-ish goings ons. And until next time…
"The god damn plane has crashed into the mountain!"