From A Little Girl Dreams Of Taking The Veil, a collage-novel by Max Ernst, from here.
Hark! whence that rushing sound?
't is like the wondrous strain
That round a lonely ruin swells,
Which, wandering on the echoing shore,
The enthusiast hears at evening;
't is softer than the west wind's sigh;
't is wilder than the unmeasured notes
Of that strange lyre whose strings
The genii of the breezes sweep;
Those lines of rainbow light
Are like the moonbeams when they fall
Through some cathedral window, but the tints
Are such as may not find
Comparison on earth.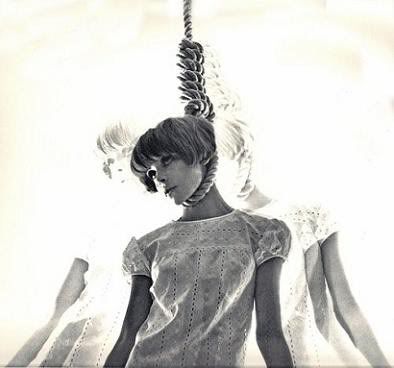 Behold the chariot of the Fairy Queen!
Celestial coursers paw the unyielding air;
Their filmy pennons at her word they furl,
And stop obedient to the reins of light;
These the Queen of Spells drew in;
She spread a charm around the spot,
And, leaning graceful from the ethereal car,
Long did she gaze, and silently,
Upon the slumbering maid.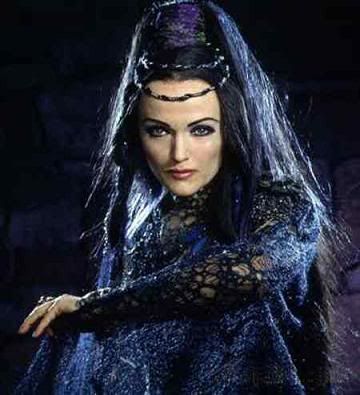 Miranda Richardson as Queen Mab, from that miniseries about Merlin starring Sam Neill.
Oh! not the visioned poet in his dreams,
When silvery clouds float through the wildered brain,
When every sight of lovely, wild and grand
Astonishes, enraptures, elevates,
When fancy at a glance combines
The wondrous and the beautiful,-
So bright, so fair, so wild a shape
Hath ever yet beheld,
As that which reined the coursers of the air
And poured the magic of her gaze
Upon the maiden's sleep.
from here.
The broad and yellow moon
Shone dimly through her form –
That form of faultless symmetry;
The pearly and pellucid car
Moved not the moonlight's line.
't was not an earthly pageant.
Those, who had looked upon the sight
Passing all human glory,
Saw not the yellow moon,
Saw not the mortal scene,
Heard not the night-wind's rush,
Heard not an earthly sound,
Saw but the fairy pageant,
Heard but the heavenly strains
That filled the lonely dwelling.
-from Queen Mab; A Philosophical Poem; With Notes, by Percy Bysshe Shelley, somewhat based on the character of Queen Mab from Mercutio's speech in Romeo And Juliet by Shakespeare. You can find the full text of the poem here.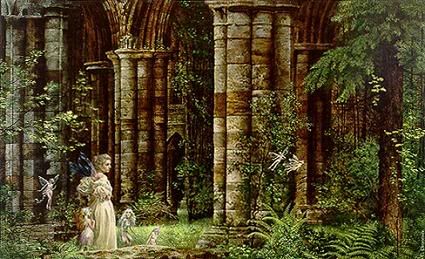 Queen Mab In The Ruins, from here.