Like it says there, three quotes about politics, which we sorely miss talking about here at Counterforce, and then we'll call it a night.
Thank you, Hunter S. Thompson.
Quote #1:
"I don't like it. I think the cables have a lot to do with it. I'll take you back to when I was president – we got tons of criticism, but didn't seem day in and day out quite as personal as some of these talk show people."
That's former President George H.W. Bush, during in an interview in Texas about the lack of civility in politics. The interview was supposed to be about his support for volunteerism, but he had to address how we can't be nice to each other anymore because of the reception Obama was getting in Texas. He goes on to say:
"And it's not just the right. There are plenty of people on the left. If you want me to name a couple of names, I'll be glad to do that for you."
Of course a reporter would love for him to go on from there…
"Keith Olbermann and Rachel Maddow – I mean here are a couple of sick puppies."
This quote fascinates me, especially as Olbermann pointed out in his response on the Maddow show, this is from the man who arguably started the era of dirty political attacks we're in now by employing guys like Roger Ailes and Lee Atwater, and the kind of shit that would eventually beget guys like Karl Rove.
It's funny that the elder Bush then added: "And the way they treat my son and treat anybody that's opposed to their point of view is just horrible," as his reasoning for specifically naming Maddow and Olbermann. Cause that's what he's really upset about, I'm sure. The way they treated his son, yeah, which I believe, but that they attack people who don't share their beliefs. That's something that Bush, sr. really wants to stand up against, I'm sure.
Before I go onto my next quote, I want to share this link with you about an interesting supposition about the wedding storyline in the Archie comics – seriously – and how it's an allegory for the state of America right now. What happened was: a few issues ago Archie proposed to Veronica, shocking everyone, and then in the most recent issue, he ended up changing his mind and instead proposing to Betty. The semi-serious gist of the post is:
"This is clearly a reference to America's voting for Barack Obama, then turning against the very things he stood for, such as greater public healthcare coverage."
Good enough for me, man.
Quote #2:
"Why should we hear about body bags, and deaths, and how many, what day it's gonna happen, and how many this or that do you suppose? Or, I mean, it's, it's not relevant. So why should I waste my beautiful mind on something like that?"
That's former first lady Barbara Bush, wife of George H.W. Bush, is from March 17, 2003 when she was asked about the coming Iraq war. On it's own the quote is just ridiculous and damning about this family of east coast intellectual elites who made a career out of posing as Texas good ol' boys and "real Americans." Taken within the context of the interview itself, the statement makes a little more sense, but only just a little more. But it was one of the first things that came to mind, along with "a thousand points of light," when I hear the "sick puppies" comment.
The comment, of course, also reminds me of that Tony Kushner play, "Only We Who Guard The Mystery Should Be Unhappy" starring Laura Bush during the Iraq War. Ah, seems like it was just yesterday.
I don't want to fully bash the Bush family, so it's important to remember this, showing that they really aren't all that bad.
And last, but not least…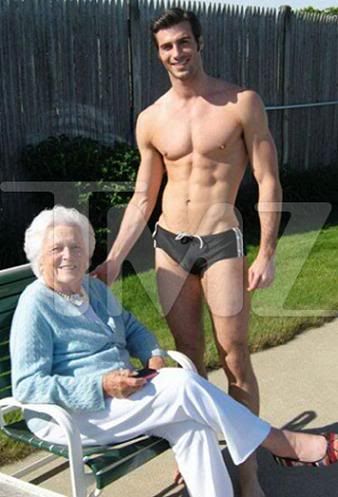 Quote #3:
"Crime, boy, I don't know."
But in context, you'll have to see it here:
"In the future, if you're wondering, 'crime, boy, I don't know,' is when I decided to kick your ass."
That's from the third season finale of The West Wing, entitled "Posse Comitatus," and deals with President Bartlett, played by Martin Sheen, meeting his rival in the upcoming presidential election, Flordia Governor Robert Ritchie, a clear George W. Bush analogue played by James Brolin, backstage at a performance of "The War Of The Roses."
My God, I miss this show, not because of it's "liberalism," or what most moderate liberals would call simply "common sense-ism," but because it was just a solidly written, performed, produced show. Aaron Sorkin wasn't always great with long term story planning (blame it on the cocaine?), but he had a playwright's excellent sense of immediate personal drama in a single moment and doesn't get nearly enough credit for his abilities with comedy, but that's a story for another time.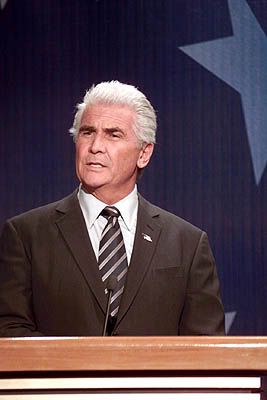 This particular storyline dealt with President Bartlett being up for re-election, despite lying about having MS, and in a bid for a taste of the real world, he was going up against the Governor of Florida, essentially a take on GWB. The storyline was good enough, just hard to believe in that Bartlett was a great president and in this wonderful television world, you couldn't believe he'd actually struggle in an election against such a moron. In real life, morons tend to have the advantage over the smart because of a successful attack on "intellectualism" that has been sweeping through this country during the past few decades, perhaps starting with the days of Lee Atwater and Roger Ailes?
Well, no, I wouldn't give them all the credit for that, but Sorkin does point out that beyond Clinton fatigue, anti-intellectualism was a large part of the 2000 election contest between GWB and Al Gore. That, and outright thievery, but that's a story that's been told many times before.
The storyline between Bartlett/Ritchie essentially ended with their debate…
…in which Bartlett so mercilessly and effortlessly kicked his opponent's ass that it seemed like science fiction. But it was so good. Not just for liberals, democrats, and "intellectuals," but for people who liked good TV and were American porn enthusiasts. It's Bartlett's line in that debate – "I'm the President of the United States, not the President of the people who agree with me" – that has strongly affected my rather simplistic view on politics. Left, right, right, wrong, smart, dumb, agreeing with the President, disagreeing with the President, or somewhere  drifting in between any of those so called absolutes, in this country, you're still in America. Every part of America is "the real America," it's changing every single day, every single moment, and not necessarily drifting towards socialism just because you don't understand it, don't like, or are scared of the color of the skin that the man running the show has.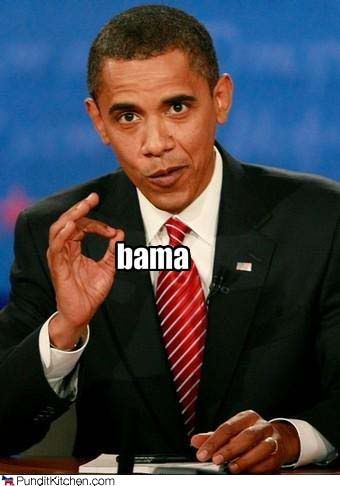 I'd love to throw out the question of why is it necessarily a bad thing to have a smart President who's considered elite and recognized as being so? I'd love to, but that's a losing debate amongst the hoi poilloi, I know. Oh, and to continue the tenuous thread between the here and now and the halcyon days of The West Wing, one of the many things I like that Barack Obama and Josiah Bartlett have in common: They're both Nobel prize winners. :)